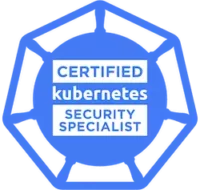 Certified Kubernetes Security Specialist (CKS) Boot Camp with Exam
This intensive 5-day program is designed to provide technology professionals with the skills and knowledge necessary to pass the Certified Kubernetes Security Specialist exam. The CNCF CKS curriculum will be covered in detail (https://github.com/cncf/curriculum) through lecture, discussions, demonstrations, hands-on labs, and timed drills. Attendees will leave with a clear understanding of Kubernetes and the essential skills required by Kubernetes Administrators and Security professionals. Skills developed include secure Kubernetes installation and configuration, "least privilege" network configuration, cluster and system hardening, appropriate use of encryption, hard multitenancy implementation, supply chain security and auditing as well as CIS best practices. The course is intensive and requires students to be present for long days and to commit to extended lab sessions for optimal results.
Included in this boot camp: CKS exam voucher
Note: All prices listed are in United States Dollars ($ USD).